Title
TRESU consolidates corrugated initiative in France with appointment of Vernitech as agent
Main Image: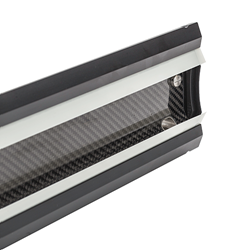 Short text:
TRESU announces the appointment of Vernitech, of Montpont-en-Bresse, to represent TRESU Ancillary's products for the corrugated market in France.

Long text:
The company has many years' experience of the corrugated industry along with expertise in flexo printing and coatings. Vernitech will focus on TRESU's ink supply systems and sealed chamber doctor blades as well as other TRESU Ancillary products for corrugated and wide-width flexo applications.
"There are many corrugated converters in France and North Africa who can benefit from TRESU's systems," said David Michel-Moulu, managing director, Vernitech. "By cutting waste and building efficiencies with chamber doctor blades and advanced ink supply systems, companies can increase machine uptime, speed and print quality while reducing waste and saving time.
The impact these improvements can make on competitiveness and profitability are enormous."
Michel-Moulu also cites consistency of quality as a major benefit of such systems. TRESU's chamber doctor blade systems can make a major difference to corrugated converters through efficient ink application and fast colour changes. With a choice of light-weight corrosion-resistant carbon fibre or ceramic construction, systems are designed for printing and coating applications, and are available in widths from 185mm to 6000mm (7.28in to 236.22in).
Of special interest to corrugated printers, the new TRESU MaxiPrint Concept chamber features an integrated cleaning nozzle with a robustly designed water-shot mechanism for fast, efficient cleaning of the chamber and the anilox roll and is available in widths up to 6000mm (236.22in).
For waste savings and efficiencies in ink management, the TRESU F10 iCon provides stable and controlled ink circulation and automatically adjusts flow, ink pressure and viscosity. Simultaneous ink changes on printing stations take minutes, and when an ink change is required, any ink left in the chamber is returned to the bucket for use on the next job.
As an engineer with a long career in the French paper and printing industries, Michel-Moulu offers consultancy and application support, giving a practical perspective to finding the right solution for customers.
"Apart from the time, waste and productivity benefits of its systems, TRESU's four-decade long experience in flexo printing gives the company a unique expertise in the sort of engineering necessary for achieving consistent, high-quality print across wide web widths," Michel-Moulu concludes.