Title
TRESU and Flexo Concepts® introduce quick-change plastic doctor blade system at Labelexpo 2019
Main Image: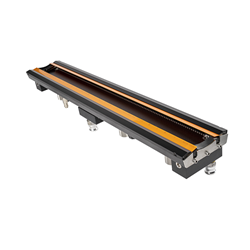 Short text:
TRESU presents the
new
XL Blade Holder Series that accommodates the TruPoint® plastic doctor blade, complementing the company's wide range of clamping solutions for traditional steel blades.
Long text:
TRESU, the world leading manufacturer of chamber doctor blade systems, and Flexo Concepts® have collaborated to introduce a programme of plastic doctor blades with specially designed clamping systems that enable fast, safe exchange and easy integration with chamber doctor blades.
Debuting at Labelexpo Europe 2019, TRESU's XL Blade Holder Series is a range of clamping systems that are specially modified for securing Flexo Concepts' TruPoint® plastic doctor blades. These include 'E-Line' eccentric clamping systems, available in thicknesses of up to 1.0mm, and 'P-Line' pneumatic clamps, in thicknesses up to 1.25mm. These solutions facilitate blade changes in as little as one minute.
Steffan Warming Rasmussen, business development manager, TRESU Americas comments: "Plastic blades are significantly thicker than metal ones and have required screw systems to secure them. The XL Blade Holder Series, developed by TRESU in collaboration with Flexo Concepts, accommodates the greater thicknesses without awkward screws. This has resulted in a comprehensive programme of plastic doctor blades with a fast, safe blade exchange system similar to those used with steel blades. The new solution is compatible with TRESU's sealed chamber doctor blade systems and also reduces maintenance while enabling cleaner printing at higher speeds."
The complete range of Flexo Concepts' plastic doctor blades, together with compatible clamping system, may be retrofitted into existing flexo printing units, and are available via TRESU's Customer Care department and the TRESU Webshop.
TRESU chamber doctor blades regulate the flow of ink and coating media to the flexo press with reduced manual intervention. They feature the company's patented seal system that ensures pressure and flow rates are automatically maintained at desired levels. This prevents air contamination of the chamber and enables foam-free transfer of ink / coating directly to the anilox cells at fast speeds.
At Labelexpo Europe 2019, Flexo Concepts will provide daily presentations that demonstrate the simplicity of blade exchange with TRESU's E-Line and P-Line clamping systems at its stand, 7A 27. TRESU will exhibit its range of chamber doctor blades and ink supply systems for label and packaging applications at stand 7D 53.