Title
TRESU highlights flexo machine and ancillary solutions for industrial applications, packaging and digital printing workflows at IST UV Days 2019
Main Image: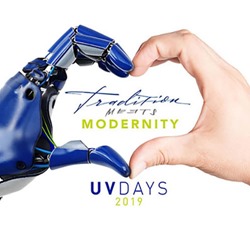 Short text:
TRESU highlights flexo machine and ancillary solutions for industrial applications, packaging and digital printing workflows at IST UV Days 2019
Long text:
TRESU is one of 40 partners and suppliers support IST Metz GmbH at the event, which shows how the latest developments in UV, LED and excimer technology contribute to an efficient workflow for producing packaging, labels and a variety of industrial products.

Ronni Nielsen, Area Sales Manager, Solutions comments: "As providers of printing machines and complete ink supply systems for four decades, TRESU has been advancing the quality, speed and production efficiency of flexography for industrial and packaging converting. Our stand presentation will show how flexo provides a lean manufacturing solution, adding value to a wide range of UV printing applications."
Custom-designed retrofittable flexographic units built by TRESU integrate seamlessly with manufacturing lines to apply features that enhance the safety, functionality and brand presentation of their products. They apply coating media, ink and silicone to papers, plastics and nonwoven substrates, inline with other processes and with minimal manual intervention. More than 300 TRESU speciality flexo units have been installed worldwide. Added-value applications include adding fire-retardant barriers to cigarette paper, anti-slip coating to baking paper, logos and patterns to detergent pouches, and sanitary napkins and high-quality graphics to wallpaper. Units can be configured for roll-to-roll, roll-to-sheet and multi-web situations and speeds between 10 and 1000m/min.
TRESU works closely with digital press manufacturers, developing versatile, efficient inline flexo coating systems to meet the demands of very short-run production and variable data. Customised to integrate with sheet-fed digital presses from OEMs, they apply added-value coatings and metallic embellishments to folding carton, papers and synthetic materials for pharmaceutical, cosmetics, food and beverage, promotional gift, consumer electronics packaging and commercial printing applications.
The TRESU iCoat 30000 single and twin coaters are available for the HP Indigo Digital Press, while the TRESU Pinta is designed for the Xerox iGenTM series of presses. An inkjet coating system for HP Indigo digital presses, TRESU iJet, is ideal for variable spot coating situations. The coaters come with comprehensive range of consumables such as varnish media, tapes and sleeves, as well as cutting equipment, thereby covering every element in the workflow. The TRESU iCut 30000 digital cutter quickly prepares plates for localised coating situations.
TRESU's ancillary programme - including ink supply systems and chamber doctor blades - automatically regulates the supply of ink and coating media to the press, enabling clean, consistent print results, with improved uptime, reduced waste, faster printing speeds and minimal manual input. The F10 iCon ink supply system provides stable and controlled ink circulation, by maintaining precise flow, pressure and viscosity levels at predetermined values. The system provides significant material and time savings by automatically returning remaining ink to the bucket at the end of the production run, and thorough, simultaneous chamber cleaning in a matter of minutes.