Title:
Printing businesses achieve massive productivity boost with pump system from TRESU
Main Image: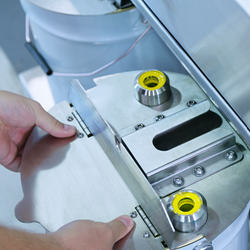 Short text:
TRESU Group has optimised processes in the printing industry with an automated pump solution that reduces downtime and the risk of human error, and also makes it profitable to have smaller print runs. The system, which is supplied by Bürkert, increases productivity by up to 30 per cent.
Long text:
One of the major challenges in the printing industry is to achieve standardised, automated machinery that makes production more efficient and uniform. This is related to the fact that the art of printing is an ancient craft, and even if modern machines have made their mark, the production of printed material still involves a lot of manual work.

From left: Christian Fogh-Hansen (R & D Manager at TRESU Group) and Ole Madsen (Sales Engineer at Bürkert) going through some details at the F10 ICon system in TRESU's demo room in Denmark. (Illustration: Mads Moltsen)

Processes such as ink changes, cleaning and control of the ink's viscosity, pressure and flow are still carried out manually in many factories, and by their very nature they increase the risk of human error. Furthermore, production is often in standby mode for lengthy periods during cleaning and ink changes.This was the background for TRESU Group's decision to create a system solution that could eliminate the manual processes and simultaneously streamline and automate the process in full.
TRESU Group located in Denmark, produces large printing machines and ancillary equipment for flexo printing for companies that produce everything from cardboard packaging to scratch cards. In 2012 they first sat down and thought about an automated pump solution that would be compatible with all kinds of printing machines. "We set ourselves four goals: we wanted to improve the production time, guarantee quality, simplify handling and reduce waste," explains Christian Fogh-Hansen, R&D Manager at TRESU Group.
Would ink destroy the valves?
Their ambitions were high, but it turned out to be an even bigger challenge than expected. The system had to be able to handle both ink changes and cleaning automatically, and the first drawings were a sea of valves and ducts criss-crossing each other. The early models looked like birds' nests, with complex three- and four-way valves.
TRESU therefore contacted Bürkert, a company with extensive specialist expertise of valves that also develops complete, customised system solutions. "We needed Bürkert's expertise to be able to translate the concept from theory into practice, and we knew that they had some robust on/off valves that we might be able to use," explains Christian Fogh-Hansen.
As the name suggests, on/off valves have only two settings, and they were to simplify the structure of the system. But the all-important question was whether the valves would be able to cope with the very thick, aggressive printing inks. Water-based inks are made of plastic, and in order for the plastic to be soluble and become liquid, a pH-regulating agent has to be added so that the level is above 8.2. Then, when the pump and the valves have to be cleaned of the ink, a cleaning liquid with an even higher pH level is sent through the system.
Ole Madsen, who is a Sales Engineer at Bürkert, suggested a model 2000 angle seat valve for this task, but he wanted to make sure that the valves would be able to meet the customer's requirements."We'd not used the valves before in media with such a high viscosity, and we weren't sure whether we could deliver the desired number of connections while still guaranteeing an effective cleaning process," he says.
Ole Madsen and TRESU turned to Bürkert's Development Department in Germany to discuss the task with product specialists in the systems house. In Germany they had experiences of similar assignments, and after a thorough review of requirements for the solution, they agreed that the 2000 model was ideal for this task. TRESU therefore initiated test runs in the specific application environment. The tests were successful. Calculations showed that the valves would last around 35 years at maximum pressure."That was more than enough," confirms Christian Fogh-Hansen.
Manifold made several functions possible
TRESU and Bürkert then initiated a close collaboration on the creation of an adapted system solution, and as the development phase proceeded, the solution was optimised several times. The finished solution was extremely compact. Along the way, 25 valves were reduced to 14, and to meet all of TRESU's functional requirements the valves and other equipment were mounted on one single manifold, which linked together the various functions.
The plastic material used for the manifold was also extremely important, as the system had to be able to handle both water-based and solvent-based inks. When solvent-based inks are used, the equipment must have ATEX approval. The system solution also met this requirement.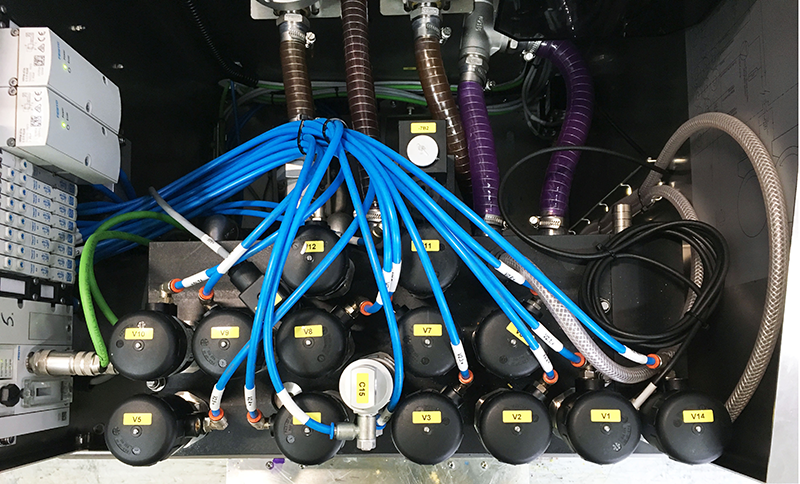 In the development phase, they succeeded in reducing 25 valves to just 14, and everything was mounted on
one single manifold in order to meet TRESU's functional requirements. Illustration: Mads Moltsen
The design process has been a partnership between TRESU and Bürkert who worked according to an interactive model, in which they first of all developed the individual components and then assembled everything.
"In such a process, we at Bürkert are not just a supplier, we're involved in the whole process as a business partner, from advice and draft solution to prototype production, testing and delivery. It's this partnership and the close dialogue with the customer about their process that create optimal system solutions. The customer's challenges are our challenges, and achieving success with a combined system solution is a joint process, but I think we've definitely managed it," says Ole Madsen.
Dramatic results
The results of these efforts is a digital, automated pump system known as F10 iCon, which TRESU is already supplying to several companies, where it has resulted in a major boost in production. In one company, the production time was improved by 30 per cent, and in another one they are now producing 10,000 square metres of packaging per hour compared with 7,000 before implementation. This is because the automatic pump system is much faster when cleaning the machine and changing inks.
A printing machine can handle up to 24 printing systems with the same number of individual inks, and each ink requires a pump system to circulate the ink. In a traditional printing system, where ink changes and cleaning take place manually, it will typically take around ten minutes per ink. With the TRESU F10 iCon, it takes 5-10 minutes in total for all inks.
This means not only an improved production time, but also a quicker change from one print job to the next. For TRESU's customers, it can therefore be profitable to deliver smaller print runs, which their customers are demanding. "In the printing industry, processes are handled very differently. Every single printing facility has its own workflows and ideas about how things should be. We've developed a standardised system solution, and after a detailed introduction customers have been able to see the benefits of the system, and so far it's produced really good results," says Christian Fogh-Hansen. Watch the F10 iCon ink supply animation - click here.

By TECH RELATIONS for Bürkert.

Bürkert
Bürkert is a German company that produces automation equipment, both components and complete systems for measuring and controlling gases and liquids. The company, which was founded in 1946, has its head office in Germany and sales offices in 36 countries, as well as four systems houses where customised solutions are produced. Bürkert has around 2,600 employees worldwide, of which 28 work at Bürkert Danmark, which has its head office and its own assembly and systems department for the development of customised automation solutions in Herlev.Visit website of Bürkert at www.burkert.co/uk